Products







LabSciences, Inc.



Water Bath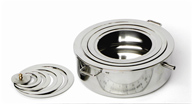 Standard size (8" x 2 3/4") design for
heating flasks, bottles and tubes.

Design features include seven concentric rings,
a flat bottom, and outlet for steam to escape.

Constructed from stainless steel.




































Cat. No. Description Pack
WB-8234 Stainless Steel Water Bath 1




Watch Glass


Manufactured from clear glass sheet with a
thickness of 1.8 to 2.0 mm.

Glass is fine ground with polished edges.






































Cat. No. Size (diameter) Pack
WG-50 50 mm 12
WG-65 65 mm 12
WG-75 75 mm 12
WG-90 90 mm 12
WG-100 100 mm 12
WG-125 125 mm 12
WG-150 150 mm 12