Products







LabSciences, Inc.



Crucible Tongs


Tongs are made with riveted joints
and serrated tips. 9" overall length.

Available in Brass, Oxidized Steel,
Plated Steel or Stainless Steel.






















Cat. No. Description Pack
CTB-1 Brass 1/Pk
CTOS-2 Oxidized Steel 1/Pk
CTPS-3 Plated Steel 1/Pk
CTSS-4 Stainless Steel 1/Pk






Laboratory Jack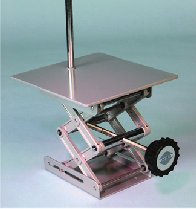 High quality laboratory support jack
made with aluminum and stainless
steel for superior strength.

The dimensions of the top and base
plates are 12x15 cm.

Vertical height adjusts to a maximun
of 26 cm.

Available with a removable 20x20 cm
platform and 45 cm long support rod.
























Cat. No. Description Pack
LJ-1 Laboratory Jack 1/Pk
LJ-2RP Laboratory Jack with removable 1/Pk
platform and support rod.