Products







LabSciences, Inc.



Pipette Filler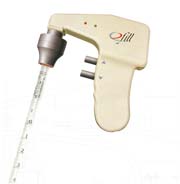 Reliable and efficient electronic filling device.
Designed for all types of liquids used in labs.
Two LED's...
- Red for low charging
- Green for charging status
Continuous adjustment of pump speed during operation.
Universal Silicon collet accepts all standard pipettes up
to 50 ml... Internally knurled to firmly hold pipette.
Comfortable grip designed to minimize hand fatigue.
In-line membrane filter (0.2 micron) prevents...
- Aerosol contamination
- Liquids from entering the device
Rechargeable Ni-MH 3.6V batteries.
Designed for eight hours of continuous operation.
Available in four different color combinations.
Battery charger supplied with all models.











Cat. No. Description
CEF-BC Gray body with Blue collet and plunger
CEF-GC Gray body with Gray collet and plunger
CEF-RC Gray body with Red collet and plunger
CEF-VC Gray body with Violet collet and plunger